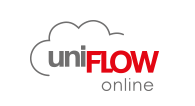 uniFLOW Online
How do Print Jobs stay within the local Network?
The uniFLOW SmartClient allows print jobs to be processed and stored on users' local PCs rather than being sent via the internet to a cloud-based service. For Windows printing, all print traffic stays within the company network. Print jobs are only released to a selected printer once a user has authenticated at that device. The spool file is deleted automatically from a user's PC once it has been printed or following a prespecified time period.
How does secure Mobile Printing work alongside uniFLOW Online?
Users can print jobs from their mobile devices, smartphones or tablets by sending the file to be printed as an email to uniFLOW Online. If the file needs to be converted from its native format into a language the printer understands, this takes place within the regional datacenter in which the uniFLOW Online service is hosted i.e. customer data does not leave the datacenter. Once converted, the original file is deleted and the converted file remains within the regional datacenter until the user selects it to be released/printed.
How does User Authentication and Password Storage work alongside uniFLOW Online?
uniFLOW Online does not provide its own identity management. Instead, it accepts logon credentials from multiple identity providers. The default provider is Windows Azure Active Directory. Alternatively administrators can use Active Directory Federation Services (ADFS) to integrate with e.g. Microsoft Office 365 or their own locally hosted Active Directory®. In addition it is possible to make use of shared web identity providers like Facebook, Google, Yahoo!® or Windows Live ID. The primary security benefit of this identity management system is that uniFLOW Online does not store any user passwords. That said, provided the customer's own local Active Directory is connected, any password changes or user additions are automatically updated and recognized in uniFLOW Online.
How does uniFLOW Online store User and Print Job Information?
As uniFLOW Online does not store any print jobs, accounting data and configuration details is the only information that is sent outside the company network. Administrators can also prevent file names of print jobs being uploaded which removes yet another potential security risk. Other sensitive information e.g. ID card numbers or PIN numbers stored in users' accounts are encrypted via a one-way salted hash to further enhance security.
What Tenant Information is stored within uniFLOW Online?
Customer data is stored in uniFLOW Online according to statutory requirements. Customer data is not shared with any third parties including Canon or the partner selling the service to the customer. Canon/the Canon partner can only view the names of their customers and license expiry dates. Customer user names, details and print data is only available to the relevant customer.
uniFLOW Online is hosted in Microsoft Azure datacenters that are distributed across the globe. The multiple Microsoft Azure datacenters used by uniFLOW Online means that customer data respects data sovereignty as it remains within the local region i.e. European customers' data will always be stored within European datacenters while US customers can be sure their data will never leave the US.